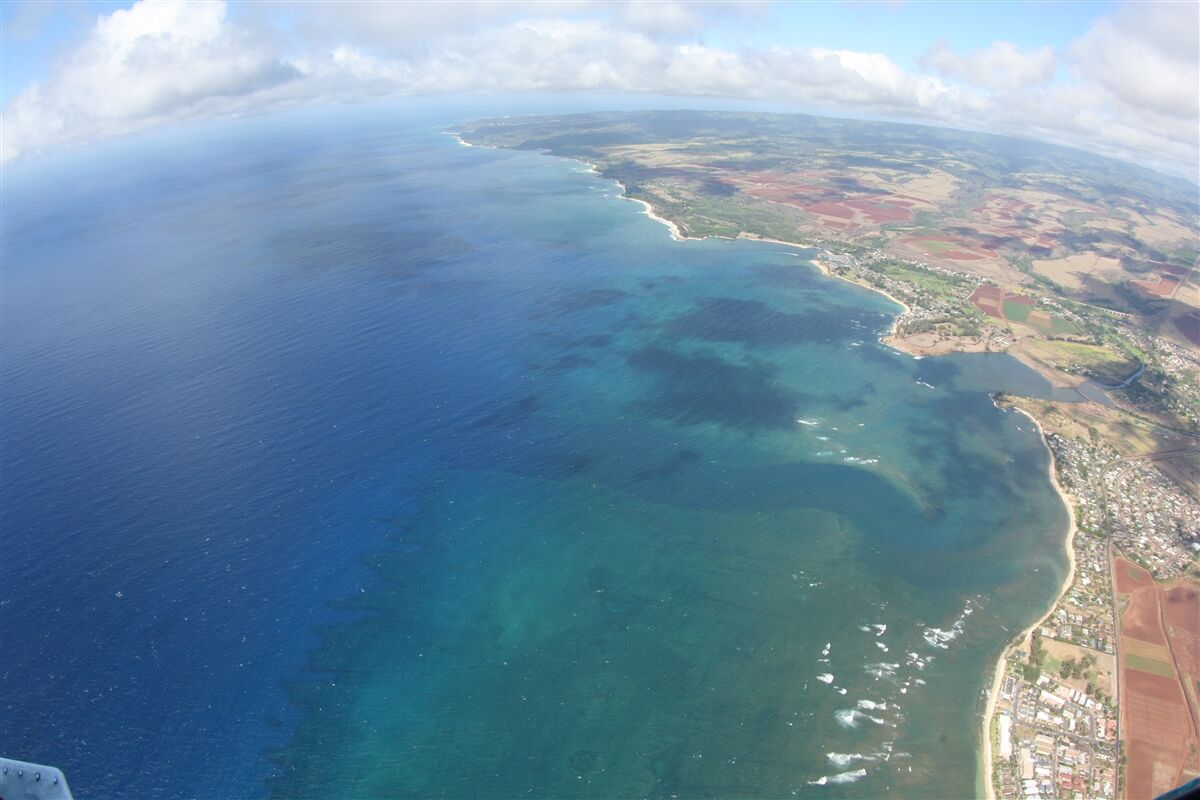 Hawaii's only Locally owned and Operated Skydiving Business
Established in and family owned since 1984, we are proud to be Hawaii's longest running skydiving operation. We are honored and privileged to operate out of the historic Kawaihapai Airfield (HDH) along the breathtaking North Shore of Oahu, sharing a unique and memorable way to experience the beauty of the North Shore with a bird's eye view. Mahalo to all of our wonderful tandem students and fans for your continued support. Skydive Hawaii wouldn't be where it is today without the love and support of the international skydiving community as well as the local community here on the North Shore. Our goal is to continue to provide our passengers with an unforgettable and exhilarating experience.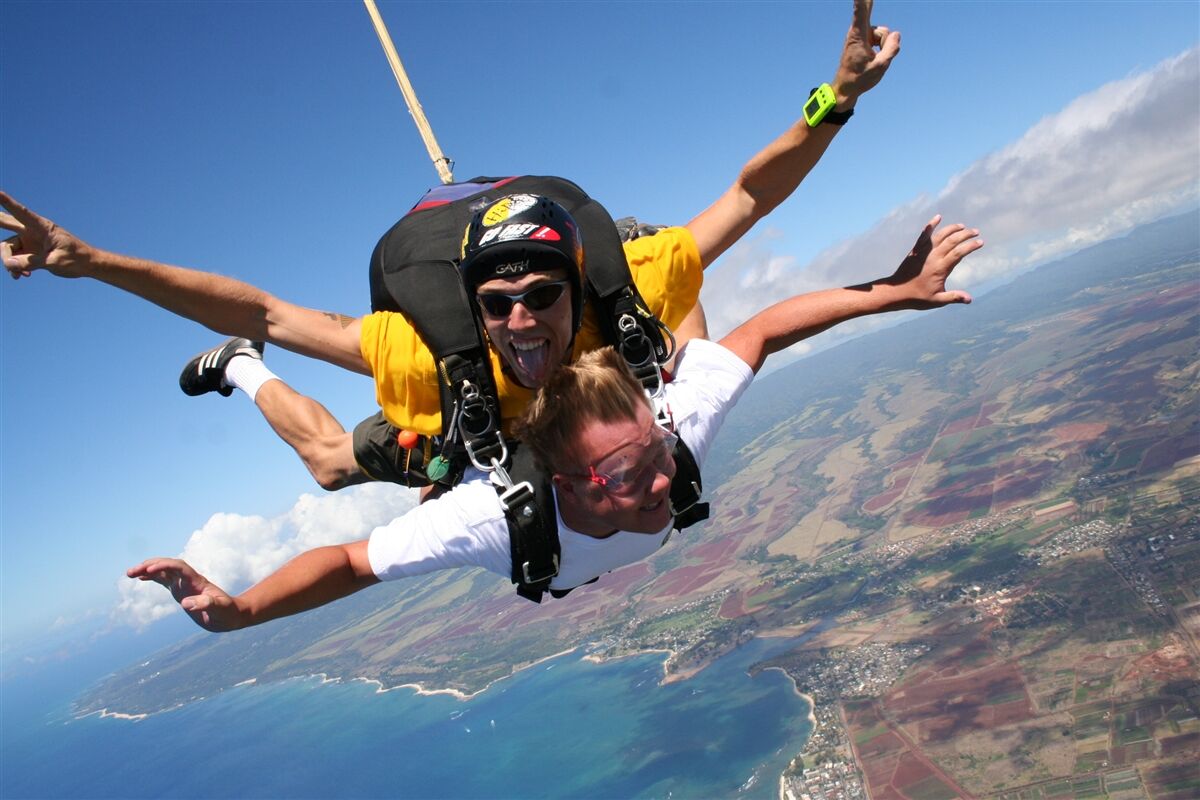 Hawaii's most exciting adventure
We feature licensed, professional USPA Instructors. Our friendly staff, many of whom are independent contractors, is best known for years of teaching and will make your first skydiving experience memorable and fun. We are ready for your arrival between 7:00am to 3:00pm. Walk-ins without reservations can be accommodated and are welcomed on most days. Walk-in reservations are limited and are on a first come first serve basis.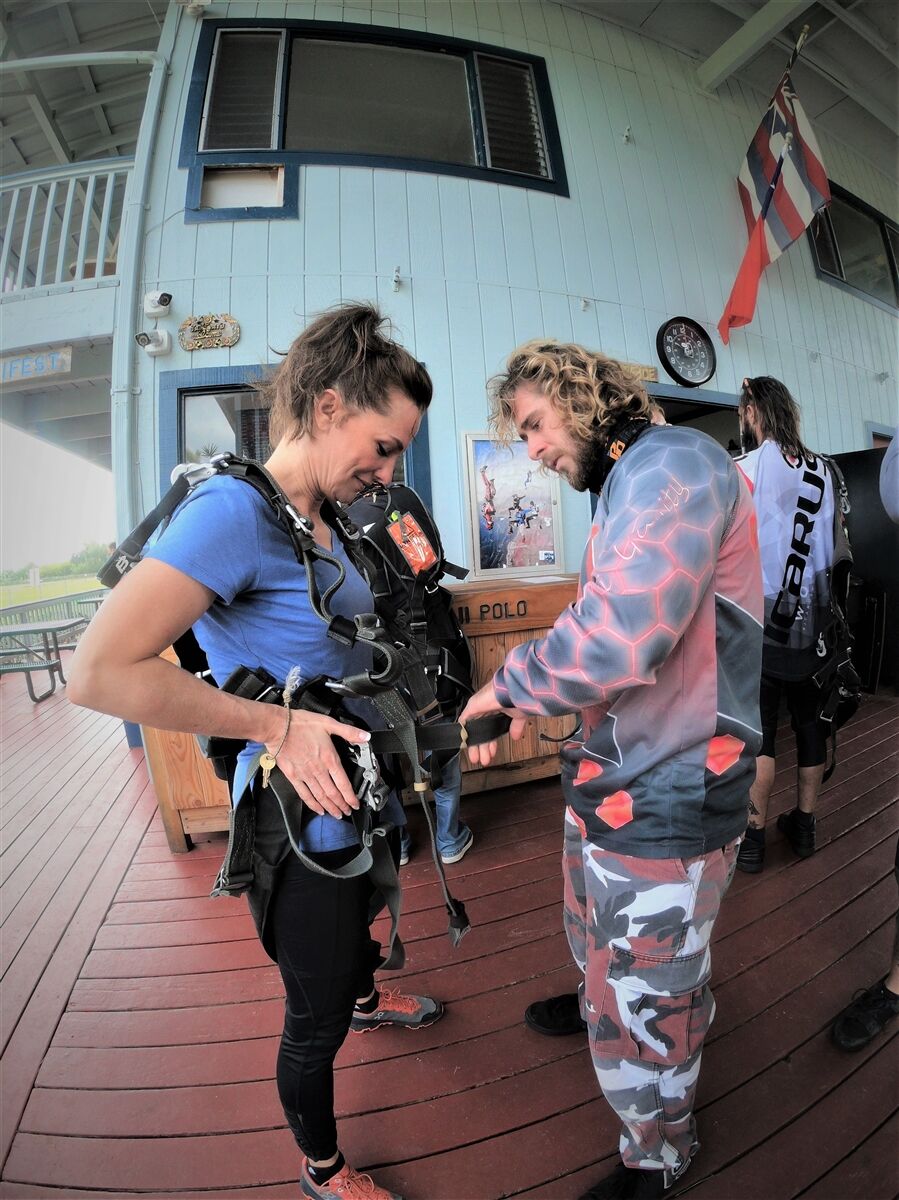 Committed to Safety
We are proud to boast the best skydiving safety record in Hawaii. Tandem skydiving is unquestionably the safest way to experience skydiving for the first time. After a safety briefing and pre-flight instruction, you can experience exhilarating free-fall with your instructor and enjoy the breathtaking views from under canopy as you gently descend to earth together.
Why people choose Skydive Hawaii.
Focused Entirely on Tandem Skydiving
Home of some of the most experienced Tandem Instructors in the world
USPA Licensed Instructors
Our friendly staff are best known for their many years of teaching experience and will make your first skydiving experience safe, memorable and fun. Our skydiving instructors are highly skilled and will guide you through the thrill of free fall at 120 MPH, then share incomparable views of the island from under canopy as you gently make your way back to earth.
Worlds Most Beautiful Dropzone
Flying above the clouds and falling through the Hawaiian skies at 120mph is an adventure you will always remember and treasure. Enjoy our 14,000' guaranteed tandem exits.
Fastest and most fuel efficient Jump planes
Both of our Cessna Caravans continue to make us the fastest skydiving operation in Hawaii - we get to jumping altitude quickly, meaning more enjoyment for you. The wide door gives you an easier jump exit and the relaxing bench seats position you for great scenic views of the North Shore on your ride up to 14,000 feet.
Ticket

Price

Walk in slots are limited and on first come first serve basis.

$249

Limited offer! * Price is only valid if online deposit is made.
Early bird booking prices are only valid for 7:00 and 7:30 AM reservation. Limited slots available.

$249

$199

Limited offer! * Price is only valid if online deposit is made. 8am til close.

$249

$239

Limited offer! ***

$2000

$1600

Only applies to groups of 4 or more.

$229/ person

Includes 14,000ft jump, outside photo/video, a t-shirt and a short horseback ride.

$600
!!! Notice . You must be 18 years or older to participate in skydiving .
!!! We have a weight limit of 250lb max. Any weight of 200lbs or over will be charged $2 per lb over 200.
* This discount is available to the first 15 customers each day based on booking. It is valid for arrivals at 7:00AM/7:30AM and ends at 8:00AM. This online special price is valid only with a $50 deposit. Must be booked at SkydiveHawaii.com and not through a third party. Not valid with any other discount.
*** This offer has a limit of 6 flights per day with at most 3 people per flight. Reservations can be made from 7:00AM to noon. You will be required to use supplemental oxygen during part of the flight to reach this altitude. Advance notice of 96 hours (4 days) and $300 per person deposit required. Price includes photos and HD video. Plan to arrive at 7:30AM, no shuttle available.
** *** This offer is limited to 20 per day. Reservations can be made from 8:00AM to noon.
* ** *** **** There is a fuel surcharge of $20 for all tandem jumps.
* ** *** **** Birthday t-shirts are free to customers with reservations after 8:00AM.
*** WARNING: Temperature at 20,000' can be -25 degrees. Layered clothing is recommended, as freefall will add a windchill at 120mph. Men must be clean-shaven so that oxygen masks will fit snugly. It could be very cold for up to 20 minutes. Please email onlinesupport@skydivehawaii.com with subject: Highest tandem skydive.
For last minute reservations or larger groups please call (808) 945-0222
| Ticket | Price |
| --- | --- |
| Standard Edited Video | $225 |
| Standard Photos | $175 |
| Online Photo Special * | $150 |
| Video/Photo Combo ** | $285 |
| Hand Cam Photos *** | $75 |
| Special Edit Requests and/or Thumb-Drive | $15 additional |
* This price is discounted $25 from the standard price of $175 with online reservations with a valid $50 deposit.Just let the cashier know you'd like photos when you turn in your completed check-in sheet before you sign the liability release. Photos will be ready for you shortly after your jump and will be sent to you via email unless you request your files delivered in a different manner.
** Just let the cashier know you'd like the Video/Photo combo when you turn in your check-in sheet before you sign our liability release.
*** This includes 6 photographs, 1 on the ground, 1 in the aircraft, 3 under the canopy and 1 after the jump
Contact Details
Please feel free to contact us with any questions you may have . We are just a small family business but strive to give you our best customer care with our responses. For general Tandem reservation please email us at and we will do our best to get back to you in a timeley matter.